When you travel with children you must prepare a contingency plan for every situation. As a parent or guardian it's up to you to ensure your child not only has an enjoyable experience, but is safe and secure at all times. The years of travelling with children to my Menorca Villa has taught me a few things and so I was inspired to compile my ultimate travel guide to travelling with children – enjoy!
No matter how prepared you are there is always room for error. These tips will help take the weight off your shoulders to ensure you are covered at every possible angle. You can skip to a particular chapter below by clicking on a link below:
Planning and Preparation
Essential Documents
Health and Safety
Child Security
Travelling to the Airport
At the Airport
On the Plane
On Holiday
Food and Drink
Single Parent Holidays
Planning and Preparation
Your holiday doesn't start when you land on unknown soil, it starts the second you complete the booking; and there's plenty to do before you take to the skies.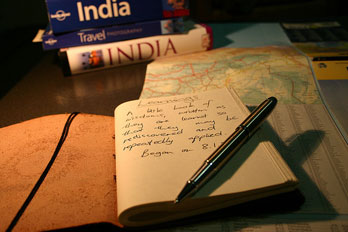 Give your children some holiday related projects the weeks leading up to your trip. Showing them the location in an atlas and teaching them about the local wildlife will get them excited, and is the perfect way to squeeze in a sneaky bit of education.
Do not let your children pack their own luggage. Make this mistake and they'll probably give up essentials in favour of toys and junk they don't need. If they insist on packing their own bags go through the checklist with them.
Older children, especially those who are going through adolescence, are often difficult to inspire. Let them get involved with the planning.  Asking for their advice will go a long way or better still ask them to do some research into where you are going. Have them look up the specifics of where you are travelling for example I have a location information page for my Menorca villa, ask them to find the equivalent.
No matter how excited your children are about flying, they'll almost certainly get bored at some point after take-off. Rather than stuff all of their favourite toys in your hand luggage, download some games onto a tablet. Check Google Play and iTunes to see what's available.
Prepare for the weather. When your children are dressed properly they'll be much happier. Check the reports on BBC Weather a few days in advance to give yourself extra time to purchase any new items of clothing.
Check the airline baggage restrictions before you book tickets. Some airlines may charge additional fees for extra checked baggage such as prams. Don't wait until you're at the check-in gate if you are over your limit as you could be charged excessive fines or refused boarding.
Use an online check-in service if your airline has one. Waiting in queue for long periods of time can take its toll on the little ones.
Try to book a direct flight. Not only can more problems occur if you have a layover, but your children could get irritated if there is a long transfer process.
Self-catering villa holidays are better suited for families than hotels. Aside from having a more homely atmosphere, they are safer, more convenient, and usually contain amenities such as laundry facilities.
Use the Independent Traveller checklist to ensure you've packed everything. If you ever need to add something to the list, visit the website; add the item to the bottom of the page and press "Get My List!"
Resources:
Google Play: Store
Apple:  iTunes
BBC: Weather
Independent Traveller Checklist: Packing
Essential Documents
No matter how much money you've pumped into your holiday or how well you've scheduled your time, without certain documents you and your children aren't going anywhere!!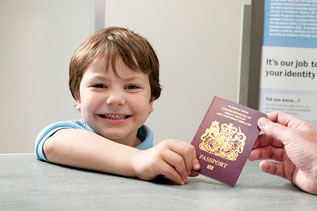 Make sure your children have valid passports well in advance. Under 16's passports are only valid for up to 5 years. Applications can be made online through Her Majesty's Passport Office and take around 3 weeks to process.
Check the visa requirements of your destination country. The application, payment and collection process may differ between children and adults.  If in doubt, visit Go Abroad and contact your destination country's embassy in the UK.
Make sure your children have a valid European Health Insurance Card (EHIC) if you're travelling to a European Economic Area (EEA) or Switzerland. An EHIC provides state health insurance if your child needs treatment for an existing medical condition. To apply, fill out the Official EHIC Application and add your children as your dependents.
An EHIC is not an alternative to travel insurance and won't cover private health care, mountain rescue or lost property. Make sure your children have valid travel insurance to ensure they are covered in every situation.
Visit Your Life Counts and take a note of the national emergency services telephone number for your destination country. Better yet, try to memorize it.
Take copies of your child's birth or adoption certificate to prove you are their legal guardian. Although you probably won't need this information, it's always worth erring on the side of caution.
If your children suffer from allergies, print out a translation card on Allergy UK. Translation cards provide crucial information such as what causes reactions, the severity of the condition, and the required treatment.
It's always worth printing out an itinerary plan. If you get stopped on arrival having this information handy could save you a lot of time and hassle if the customs officer doesn't believe you and your children are on holiday.
Search Go Abroad for the contact information of the closest British embassy to your destination and put it in your wallet. If you ever find yourself needing this information, you'll certainly be glad you have it!
It goes without saying that you should remember your flight tickets. But if you've made seat reservations it's always worth having a copy of the reservation form just in case there's a technical error. Your children may feel irritable and scared if you aren't sitting together.
Resources:
Her Majesty's Passport Office: Get a Passport for your Child
European Health Insurance Card: EHIC Application
Your Life Counts: Emergency Services Worldwide Contact Numbers
Allergy UK: Translation Cards
Go Abroad: Embassies in the UK
Health and Safety
The health and safety of your children is paramount and there are various preventative measures you can take to ensure they don't get sick during your trip: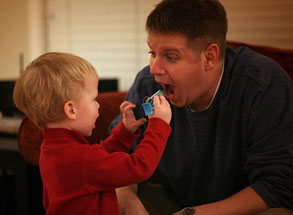 Schedule an appointment with your doctor at least two months before you travel to discuss your plans. Give the doctor details of your child's medical history, including their vaccination records. Visit NHS Travel Immunisation  for more information.
Pack a small first aid kit with basic medical essentials such as plasters, antibacterial cream, sting treatment and a thermometer. Although you're travel insurance will cover medical care, having a first aid kit could certainly ease heightened temperaments if your child has a minor injury.
Check the World Health Organization to see if your destination country has a malaria epidemic. If it does, take antimalarial tablets and a pill cutter. If your children have trouble swallowing pills, a syrup-based antimalarial is the perfect alternative.
Bring multi-vitamin tablets to ensure your children get the right amount of nutrients throughout the trip. Visit NHS Vitamins for Children for more information.
Children are often more susceptible to illness than adults. Limit their risk by packing antibacterial wipes, a steam steriliser and bug spray. These items could prevent your children from getting ill.
Buy high factor sun screen from your destination country. Humidity can affect the quality of protection and many sun creams, gels and sprays from the UK aren't effective overseas. Also be sure to review a local weather report, a quick search will often produce highly accurate reports, I have a report on the weather in Menorca on my website.
Even if your children don't suffer from allergies it's always a good idea to pack a non-prescription antihistamine. Different strains of dust and pollen could trigger a reaction you weren't aware of.
Pack clothes that are made from natural fibres. This will help reduce irritation from sweat and heat rash.
Bring a mosquito net for your baby cot. Although most hotels will have them readily available, it's better to be on the safe side.
Pack an over-the-counter children's medicine such as Calpol as there is always an element of unknown in local equivalents. These can be useful to treat mild cold and flu symptoms.
Resources:
NHS: Travel Immunisation
World Health Organization: International Travel and Health
NHS: Vitamins for Children
Child Security
When you bring your children on holiday you must be extra vigilant to protect them from danger. There are plenty of steps you can take to maximise security.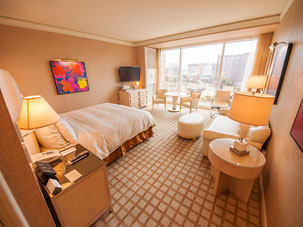 Whenever you arrive in a new location designate a meeting point. Even when you're constantly on guard it can be easy to lose sight of your children, especially in dense crowds of tourists.
Child locators are perfect for finding wondering children in airports and crowded areas. If they get lost, just activate the alarm and follow the sound.  My Precious Kid has a range of devices with belt and shoe attachments.
Write your mobile number and address on a slip of paper and give it to your child. Tell them to leave the paper in their pocket and give it to somebody if they get lost.
If you're worried your child will lose the slip of paper take it one step further and brand them. Write your name, address and phone number on their forearm with a pen.
When you first enter your accommodation, check the locks on the windows and doors to ensure it's safe from intruders.
Teach your children how to cope with dangerous situations. For example, tell them never leave with strangers if they get lost. Test them regularly so they don't forget.
If you're children are playing on the beach, in a pool, or at a water park, get them to wear a waterproof wristband with your phone number printed on it. You can order them from Wristbands.com.
Assess your surroundings to ensure they are safe and secure. For example, sunbathe in a swimming area that's surrounded by railings and position yourself by the exit so your children can't wonder off without your knowledge.
Get your children to wear distinctive items of clothing such as a brightly coloured t-shirt. This will make them easier to spot if they wonder off in dense crowds.
Always carry around a recent photo of your children to show people if they go missing. This is the first item that you'll be asked for if you ever lose a child and have to contact the authorities.
Resources:
Wristbands: Child Safety Wristbands
My Precious Kid: Child Locator
Travelling to the Airport
While you're travelling to the airport, use the time to get your children settled before the real travelling begins.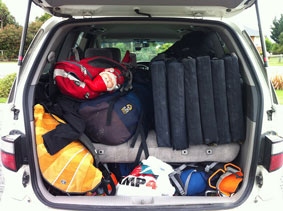 Most rail and coach services provide family discounts online. If you can't find any information, don't assume that they don't have any offers available. Just give them a call and ask.
Boarding public transport is like sand running through an hourglass; people push and shove to get on as quickly as possible. If you're travelling with children, wait at the back with your luggage and make sure they get on before you board.
Well-fed children equal happy children. Before you even think about leaving your home make sure they've had a decent meal. With all of the queuing at the airport you may find yourself pressed for time and unable to satisfy their stomachs before take-off.
Schedule rest stops when you're travelling long distances. Children have much weaker bladders than adults and may need a toilet break every now and then.
Try to avoid packing luggage in empty seats. If your children start to get cranky or misbehave, jump in the back with them on your next rest stop so you can keep them under control.
Bring a spare change of clothes for the journey. There's nothing worse than getting baby puke on your t-shirt before the holiday begins. If you don't have something else to slip into, you may have to put up with it for a long time.
Buy a baby mirror so you can keep a constant eye on your baby seat. This can also serve as a form of entertainment as babies love to look at their own reflections.
Try to make long car journeys coincide with nap times. Your children will feel a lot happier waiting around at the airport if they feel awake and refreshed. If you have an early flight, consider staying in airport accommodation.
Before you leave your home make sure you know the way to the airport. If you don't own a sat nav, print out directions using AA route planner.
Check BBC Travel News to make sure your planned route is safe if you're worried about traffic or road conditions.
Resources:
The AA: Route Planner
BBC: Travel News
Money Saving Expert: Cheap Train and Coach Tickets
At the Airport
Hanging around an airport for hours on end isn't fun for anybody. While you may be able to grin and bear it, your children won't be so forgiving without some form of entertainment.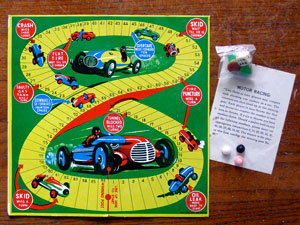 Bring a couple games to keep your children entertained in the departure lounge. Travel board games with magnetic pieces are ideal and will fit snugly in your hand luggage.
Check your hand luggage restrictions before you go through the security scanners. You won't be allowed any liquid that exceeds 100ml, including baby creams and baby foods. Anything below 100ml must be stored in a small container and carried in a clear plastic bag.
Take your children to the toilet before they board the plane. There's always a chance you'll get delayed at the gate or on the runway, and during these periods the toilet is out of bounds.
If you're a member of a frequent flyers club, ask airline staff if there's a private departure lounge. Private lounges aren't as busy and some of them may have play areas and crèche facilities.
Children often have attachments to toys. Packing one of them will make them feel more safe and secure. Just make sure it's silent and won't disturb other passengers.
Spend as much time in the airport play area as possible, especially if your children have never been on a long flight before. This will wear them out and make them less active on the plane.
Play counting games with your children. For example, tell them they must find five people wearing a yellow jacket to win, or get them to guess how long it'll be until the next check-in gate opens.
Try to manage expectations before you arrive at the airport. Tell your children there could be delays. If they expect the worst they won't get as irritable if there's a hold-up.
Arrive at the airport nice and early. Going through security checks with children can be a nightmare. Check their pockets before you go through the scanners.
Bring healthy snacks for the departure lounge. The last thing you want to do is give your children a sugar rush before the flight. Snacks that take a long time to eat, such as raisins, will also help pass the time.
On the Plane
When you're in the air you'll probably have to deal with boredom, sickness and fear all at the same time. Managing your child's emotions when they are distressed isn't easy.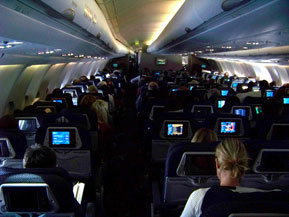 Children who aren't used to flying are more susceptible to motion sickness. Try sitting at the front of the plane if you are worried. The front won't shake as much as the back.
Give your children some travel sickness tablets just before take-off. Never exceed the recommended dosage, even if your children feel ill throughout the course of the journey.
Plane journeys are notoriously boring, so the more you have to keep your children entertained throughout the flight the better. Bring a portable music player and headphones if you don't think they'll have enough to do.
Give your children a sweet to suck on during take-off and landing, and massage behind their ears if they pop throughout the flight. This will help reduce the pain.
When you board the plane tell your children where the rubbish bags are. Plane food is usually covered in plastic packaging and can make quite a mess.
If your children are allowed hand luggage, let them bring it. While their essential items should go in the suitcase, having an extra bag is ideal for storing games.
Let your child say hello to people sitting nearby, but make sure they don't disturb them throughout the journey. If you see your children kicking seats or talking to people when they are trying to sleep, stop them.
Role-play with your children if they are afraid of flying. Playing pilots is the perfect way to make them feel in control and may ease their nerves.
Comfortable children are happy children. Pack an item of clothing in their hand luggage that could double up as a pillow during the flight.
Bring some sick bags in your hand luggage. Pack more than you need just in case.
On Holiday
Remember your children are on holiday as well. Getting your children involved will not only make your time easier, but will give them memories that will last for a lifetime.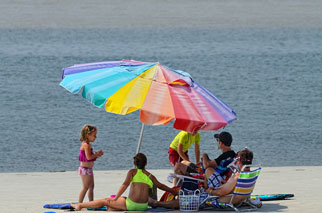 Encourage your children to keep a travel journal. When they write about the things they've seen, food they've tried and people they've met, they'll have more vivid memories in the future.
Give your children a robust camera. They are tourists as well, and having a camera will encourage them to observe their surroundings and express their interests.
Prepare an activity list to suit a variety of different weather conditions. Hanging around a hotel waiting for the weather is no fun for anyone.
When you have kids in tow everything will take longer. It's always better to over-schedule when you're sightseeing. This will limit stress and give your children time to explore new places.
Breast feeding in a foreign country can be an awkward affair, especially if you don't know the local customs. If in doubt, ask a member of your hotel staff about public reactions to ensure you don't offend anyone.
Give your children something to remember and buy them a local toy that you can't get at home.
When children go on holiday they'll often miss their friends. Being around grown-ups all day can be difficult, so encourage them to connect with other kids.
Make sure your children get plenty of rest by keeping their sleeping patterns as normal as possible. An out of sync body clock could drain their energy and make them unhappy.
Family traditions are very important to children. If your trip crosses over with a birthday or public holiday, don't let it stop you from celebrating.
Teach your children some simple foreign phrases. Getting them to say "hello" and "thank you" is charming and will go down very well with the locals.
Food and Drink
Holidays are a time for indulgence. While it's okay to be a little more relaxed with your child's diet, it's no excuse to feed them junk.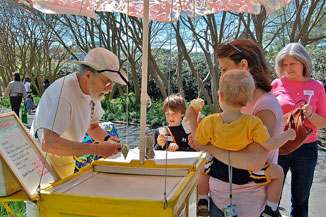 Tell your children not to use tap water for drinking or brushing their teeth in countries that have poor water sanitation. It could leave them bed-ridden for the rest of the holiday.
Don't give your children sweets as snacks. While the odd ice cream on the beach won't hurt, you don't want your kids having a sugar rush in an unknown environment.
Drastic changes in diet can cause stomach upset.  If your children start to feel under the weather, put a bit of Vaseline on the tips of your fingers and give them an abdominal massage to make them feel relaxed.
If your children have any dietary requirements (gluten free, lactose intolerant, etc.) make sure supplies are readily available at your destination. If they aren't, pack as much as possible in your suitcase and then ask a tourist information centre for help when you arrive.
Preparing milk for bottle-feeding requires some planning. Bring a bottle brush so you can clean it in bathroom sinks at the airport and on the plane.
Some countries have stricter alcohol policies than others and may not let children into restaurants past a certain hour if drinks are being served. Dine at a suitable hour so you don't get asked to leave half way through a meal.
Request a room with a fridge if you're staying in a hotel. It's always good to have nutritious snacks and baby food handy just in case hunger strikes.
Give your children zero-calorie beverages. When you're on holiday you'll probably eat out more than usual. The food will provide enough calories, so there's no reason to add any more.
Sit out of sight of the buffet table. Having lots of food in front of your children will only encourage them to keep walking up; and they'll probably fill their plates with junk before they touch the salads.
Get your children into the habit of eating the local cuisine by cooking it at home in the weeks leading up to your holiday. Getting your children accustomed to the taste will help divert their attention from the burger bars.
Single Parent Holidays
The thought of a single parent holiday is often terrifying; however, with careful planning and the right attitude, there's no reason why you'll have to spend your days just supervising.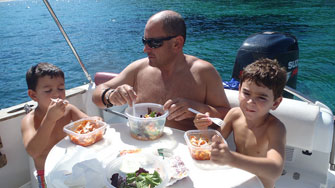 Choose accommodation that has supervised childcare services so you can give yourself a break every now and then. However, be wary of services that just plonk children in front of a television all day.
Ask for meet and assist services if you need someone to help you with your children and baggage at the airport. Meet and assist services are usually provided by the airport itself and can be booked online.
Customs officers may want to see a letter of consent from your child's other parent or guardian if you're travelling alone. Check with the consulate or embassy of your destination country to see if you need supplemental documentation. For contact information visit Go Abroad.
Consider hiring a nanny for the duration of your holiday. Although this option is expensive, it'll give you much more alone time.
Scale down and don't try to jam too much into each day. Travelling alone with children is strenuous work and you may not have the time to squeeze everything in.
Children often get scared when they're flying and your absence could make it worse. Ask one of the flight attendants to keep an eye on your children if you need to nip off to the bathroom during the flight.
There are a few niche travel agents that specialize in booking single parent holidays. They will help you find suitable accommodation, services and deals. Travel operators include Single with Kids and Small Families.
When your children are taking a nap, seize the moment – you may not get many opportunities to have peace and quiet. Although you won't be able to take a dip in the pool or go out sightseeing, you could certainly enjoy quieter activities such as reading a book on your balcony.
Don't be afraid to assign your children certain responsibilities. Letting them make a few decisions every now and then will make them happy and take some of the heat off you.
Sign up to Single Parent Travel to get a monthly newsletter filled with tips, stories and advice on travelling alone with your children.
Resources:
Single with Kids: Single Parent Holidays
Small Families: Single Parent Holidays
Single Parent Travel: Single Parent Travel
Inspirational One Man Travel Guide Don't Stop Living
Travelling provides the best possible family time for you and your children. From the second you leave your home you are together, sharing the experience. Following these tips will prepare you for virtually every eventuality, and will allow you to enjoy the company of your children without any stress or worry, I should know as almost all of the 100 tips above I have employed at one time or another when travelling to my villa in Menorca. If you're wondering why I travel their with my chidren two or three times a year check out my gallery of pictures of Menorca is a beautiful island.
I hope you found this guide useful, if so please share it using the buttons below or link to it from your website. The feedback I have had to date is fantastic if this continues I might have to write another definitive guide so check back soon and if you have any questions don't hesitate to contact me.
Image references:
Planning and preparation Travelling Tamas
Essential documents UK Home Office
Health and safety Make Less Noise
Child security William Warby
Travelling to the airport Tim Lucas
At the airport David D
On the plane Matthew Reid
On holiday Ralph ad Jenny
Food and drink Barbara Hobbs
Single parent holidays Salva Farreri